P320SCR 9mm w/Night Sights & Rail - Sub Compact model - Design your own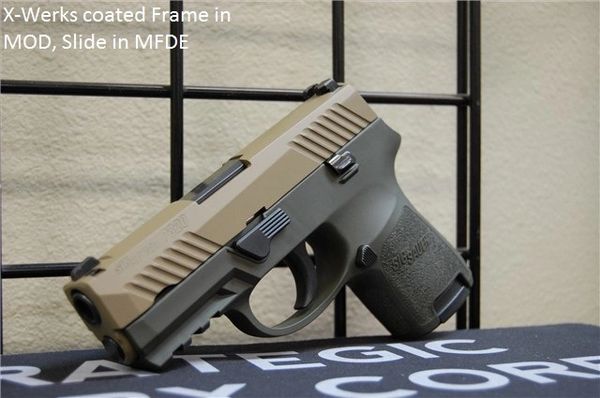 P320SCR 9mm w/Night Sights & Rail - Sub Compact model - Design your own
Sig Sauer P320 Compact, part # 320SCR-9-B chambered in 9mm.   Design your own!  Choose your Cerakote color for the frame and or slide.  If you don't want it Cerkoted leave the selection blank.  There are over 200 different colors so if you don't see the color you're looking for simply let us know.

The P320 Subcompact offers a smooth, crisp trigger to make any shooter more accurate, an intuitive, 3-point takedown and unmatched modularity to fit any shooter and any situation. Its subcompact frame is ideal for concealment or small-handed shooters. This modular, striker-fired pistol features a subcompact grip and subcompact slide.

Safety features include a striker safety and disconnect safety.

Pistol ships as you see it, in the Sig case with 2 mags, Holster and manual.
SPECIFICATIONS:
Mfg Item Num:       320SCR9BSS 
Category:           PISTOLS                      
Type                :Pistol
Action              :Double
Caliber             :9mm Luger
Barrel Length       :3.6"
Capacity            :12+1
Safety              :
Grips               :Black Polymer
Sight Configuration :Night
Weight              :25 oz
Frame Finish        :Black
Frame Material      :Polymer/Stainless Steel
Barrel Type         :
Slide Description   :Black Nitron Stainless Steel
Case Type           :
Sight Style         :Night
Barrel Length Range :3.00" to 3.99"
Weight Range        :16.00 oz to 31.99 oz