Surefire MAG560 60rd AR15 M4 5.56 223 High Capacity Mag X-Werks OD Green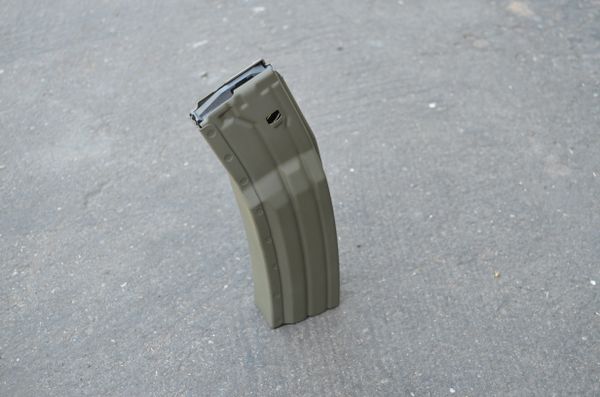 Surefire MAG560 60rd AR15 M4 5.56 223 High Capacity Mag X-Werks OD Green
New in package Surefire 60rd AR15/M4 magazine with an X-Werks OD Green finish!  Comes factory new in package and ships direct where legal.  Will not ship to restricted states.
Packs twice the ammo for twice the fighting power
Slim profile is thinner than two clipped-together 30-round magazines
Fits in most dual magazine pouches
Pack For The Fight. SureFire's high-capacity magazines for 5.56x45 mm (.223 Remington) ammunition offer critical advantages in any firefight: shoot more; reload less. Compatible with M4/M16/AR-15 variants and other firearms that accept standard STANAG 4179 magazines, they increase initial firepower in ambush situations. Fewer reloads overall mean less downtime and target distraction. Magazine insertion is fast and easy, even with a closed bolt, and they're less bulky compared to drum mags, enabling a normal weapon grip. The 60-round magazine is thinner than two 30-round magazines clipped together and about the same overall length. It fits in most dual magazine pouches, eliminating special carry pouches required for drum magazines. Twice the violence of action. Half the reloads. Win-win.
Please allow 1-3 days for coatings and items to ship.
Follow X-Werks on Instagram for Updates and specials!!
Long guns and accessories ship UPS Ground. Handguns are shipped USPS priority mail.
Once payment is received we will email you a tracking/delivery confirmation number.
NO CREDIT CARD FEES!